On an extremely unconventional weekend of prize-fighting which was filled with spectacles and upsets and disputed draws. One young upstart handed in a motivated and awe-inspiring performance and scored a stunning upset against one of the sports' young premier prospects. Jorge Castaneda of Laredo, Texas, shocked the highly touted Otha Jones III over eight highly competitive and entertaining rounds and handed OJ3 his first career loss while moving his own record to 14-1 (11). Despite having been inactive for two years, Castaneda was sharp and dominated the second half of the fight to take the well-earned majority decision and pick up our Fighter Of The Week award.
Laredo, Texas, is best known for producing world champion Orlando and Gaby Canizales, however the "Gateway City" is producing an alarming level of highly skilled, young prospects. Among those prospects, Castaneda was viewed as one of the prize jewels. He proved worthy of that praise against the highly skilled Jones on Saturday night in Hollywood, Florida. After two fairly even feeling out rounds the Texan struck in the third with a beautiful left hook that sent OJ3 reeling backward, a minute into the stanza. A quick three-piece kept Jones on the defensive. The Texan would score with several more left hooks and changed the tempo of the fight. After a pretty even fourth that saw both pugilists land jabs and clean power shots. Castaneda came roaring back again in the fifth. It was the left hook leading the way, about midway through the round a hook to the body froze Jones and another hook just seconds later stopped him in his tracks again. Knowing he had his man on the retreat Castaneda came out shot-out of a canon to start the sixth. Walking his man down with the jab and scoring with laser-like right hands. Dominating the sixth and seventh rounds with right hands and sharp hooks and avoiding the counter shots from his opponents. Two right hands and a left hook from the Laredoan a minute into the final stanza hurt his unbeaten opponent. 15 seconds later another thudding left hook against hurt Jones. Castaneda was gunning for a last-round stoppage unleashing a barrage of power shots. The game Jones was able to withstand the final barrage but it was nothing more than a moral victory as Castaneda took a much too close majority decision by scores of 76-75 77-75 and the third judge handing in an even 76-76 card.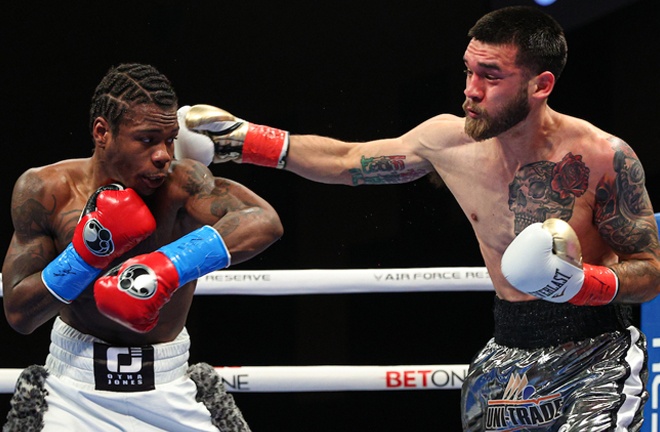 Castaneda had fought on national television a few times having mixed results, dropping a fight of unbeaten prospects to Randy Moreno in 2018 and was coming off of a two-year layoff due to a pandemic and an illness that had about canceled in the summer of 2019 and bounced back a few months and stopped TMT prospect Carlos Villareal but was mainly unknown outside of Texas. Given the high-level and entertaining performance he handed in this past weekend he is no longer unknown and should secure himself a big money fight if not a lucrative deal with one of the sports major promotions. Castaneda has replaced OJ3 on the shortlist of highly touted 130-pound prospects. A list that includes Xavier Martinez, Gabe Flores, and Joe Cordina. Given this win, the Texan finds himself on that list of blue-chippers and should be put on a path that leads to world-level competition by 2022.